Hiring Your Dream Videographer
You might have some questions about hiring a wedding videographer, and how to separate all of them from the others.
- What are the videographer's filming and editing styles?
- Can we choose the music for the highlight video?
- Can we see some previous work?
- Do you have liability insurance & backup equipment?
- What is included in your wedding videography package?
- Is there a discount if I book both photography and videography services?
- What is your turnaround time for getting the video back to us?
- What's the process look like with booking you?
- What is your process for filming a wedding?
- What Does The Process Look Like After Our Wedding Day?
Below I'll go through all these questions and answer them for you.
Videography Filming and Editing Styles

There are a lot of different styles for filming weddings, Super8, analog, handheld, gimbal/glidecam, monopods, etc. Every videographer will be different with how they film and what they use. Some only use one camera while others have multiple, audio may or may not be included. What's really important at the end of the day is what you like and what is important to you.
Make sure to ask your videographer if they offer ceremony, toasts/speeches, or raw footage edits on top of their highlight films because there is a lot that film for the highlight film and the highlight film only. When it comes to a videographer's style, not only is the editing and how their highlight videos look important but there might be footage that you definitely are going to want from your wedding day as well.
Check with your wedding videographer about their filming style as well as their editing to see if they'll have your footage shot in a way that you can watch and listen to things that are important to you as well.
Can We Choose The Music?
I get asked this question at almost every wedding consultation I have and the short answer is Maybe?
As videographers running a legitimate business, we have to license our music for the films and work that we produce. Basically, this is the artist's or record labels' way of charging a tax for their work and how they make a living.
So with that in mind. I can always look into it and find out! You can almost always license a song for a video but it will come at a cost. Music licenses will range anywhere from $50 - $10,000, and the type of license will vary as well as what you can use it for.
For me and my couple, I get to know them from the initial meeting and after booking, we do another call to really dive into who they are, their relationship, and what they envision their wedding film to look and feel like after they receive it. With this, I've been able to deliver wedding films that not only my couples love but are also timeless of their wedding day that they will enjoy watching 20-30 years down the road.
I mean we all love 1000 years from Christina Perry but it's a little overplayed for wedding videos, haha.
Can We See Some Previous Work?
Absolutely! I would love nothing more than for you to see my work and watch my videos and find one that you genuinely love.
You can see my work under the Portfolio tab or click the button below.
Do you have liability insurance & backup equipment?
Yes, I do. I make sure that all my equipment and gear are insured. I also have backup cameras & lenses with me with equal quality to film a wedding in case something were to happen the day of.
What is included in your wedding videography package?
Every couple is different, plain and simple. I want to provide the most personalized experience possible by setting up an initial FaceTime or Zoom call so that we can get to know each other. If you're local, then going to lunch or something to meet you both in person is even better! I like to keep things relaxed by asking about your day and discussing what's important to you both. I want to know what you envision or dream of when it comes to what your wedding film looks like and the emotions you hope to feel when watching it.
I take a cinematic and journalistic approach to my films, to create the most authentic and genuine keepsake of one of the most important days of your lives! I'm dedicated to pushing my boundaries, and those of the wedding industry, by constantly elevating my films for my couples and creating cinematic storytelling that is filled with raw authenticity, real candid moments, and genuine emotions.
Whether you're having a big celebration or a small, intimate elopement, each wedding package includes:
Fully edited digital highlight film
Highlighted audio from your most special moments
A custom website
A video album book for a physical copy
Ceremony and vows recorded and incorporated into the film
Drone coverage (weather & location permitted)
Digital download of the final film
A final video that will be edited and delivered within 6 - 8 weeks
I have lots of add-ons and other packages that offer more to find out more details inquire with me on my contact page.
Is there a discount if I book both photography and videography services?
I have photographers that I love working with and would be happy to recommend them to you for your wedding day. I have a list of tons of vendors and venues that I would be happy to recommend to you that I like to work with that bring the same level of quality and work with them as well.
What is your turnaround time for getting the video back to us?
Typically my turnaround time for a wedding video and all add-ons is 6 - 8 weeks. I will always try to get it back to you faster as I'm just as excited as you for you to see your wedding video and relive your wedding day. But I make sure to take time to put together your film and deliver a quality product that isn't rushed.
What's the process look like with booking you?
To kick off the process, you'll need to fill out my contact form and then we'll set up a time to chat either via FaceTime/Zoom or in person, depending on if you're in my area. If we all feel good after our initial conversation, then we move forward with the retainer and contract. I require a 20% non-refundable retainer to hold your date with a signed contract. Next, I'll set up a payment plan of 2-4 payments before your wedding date.
Depending on how far out your wedding date is, I'll send you scheduled communications and possibly set up a time to chat and delve deeper into your wedding video desires if we didn't get to cover that thoroughly during our initial conversation. I'm excited about your big day and I can't wait to capture it! Rest assured that I'm dedicated and here to make the entire experience as fun and relaxed as possible for you both.
If there are any details that we need to iron out that a quick email can't cover, let's jump on another FaceTime/Zoom/phone call to iron those out 6 to 1 MONTHS BEFORE THE WEDDING.
ONE WEEK OUT FROM THE WEDDING - THIS IS THE WEEK! I'm so stoked to meet you in person if we haven't already! I'll remind you that I exist and that I'll be there on your big day ready to go. I'll also ask for you to send me your wedding day schedule if you or your event coordinator haven't provided that to me yet.
What is your process for filming a wedding?
I always arrive anywhere from 30 - 45 minutes early to the location ready to work, and come and find you and your partner and let you know that I am there. I will then connect with any planners, the photographer, and DJ (if they are there). I'm a team player, this wedding is about you and your significant other and no one vendor is more important than the other. I will typically reach out and connect with the photographer if I don't know them and chat with them before your wedding day to make sure we are on the same page.
My excitement and enthusiasm for your day will always be there, I love what I do and know that you will see that but will always make it known on the day as well because YOU ARE GETTING MARRIED!!!
I help make your day as seamless, relaxed, and smooth as possible by again being a team player and communicating with your photographer when I know I need to get a shot. I do have multiple cameras, audio equipment, and a drone to capture everything and have backup angles of the most important moments, the ceremony, speeches, and first dances.
Hopefully, everything goes as smoothly as it can and if issues arise, I keep an upbeat attitude and reassure you both or anyone else involved that we can make things work! The day ends, I say goodbye to you both and thank you again for choosing me to capture your day.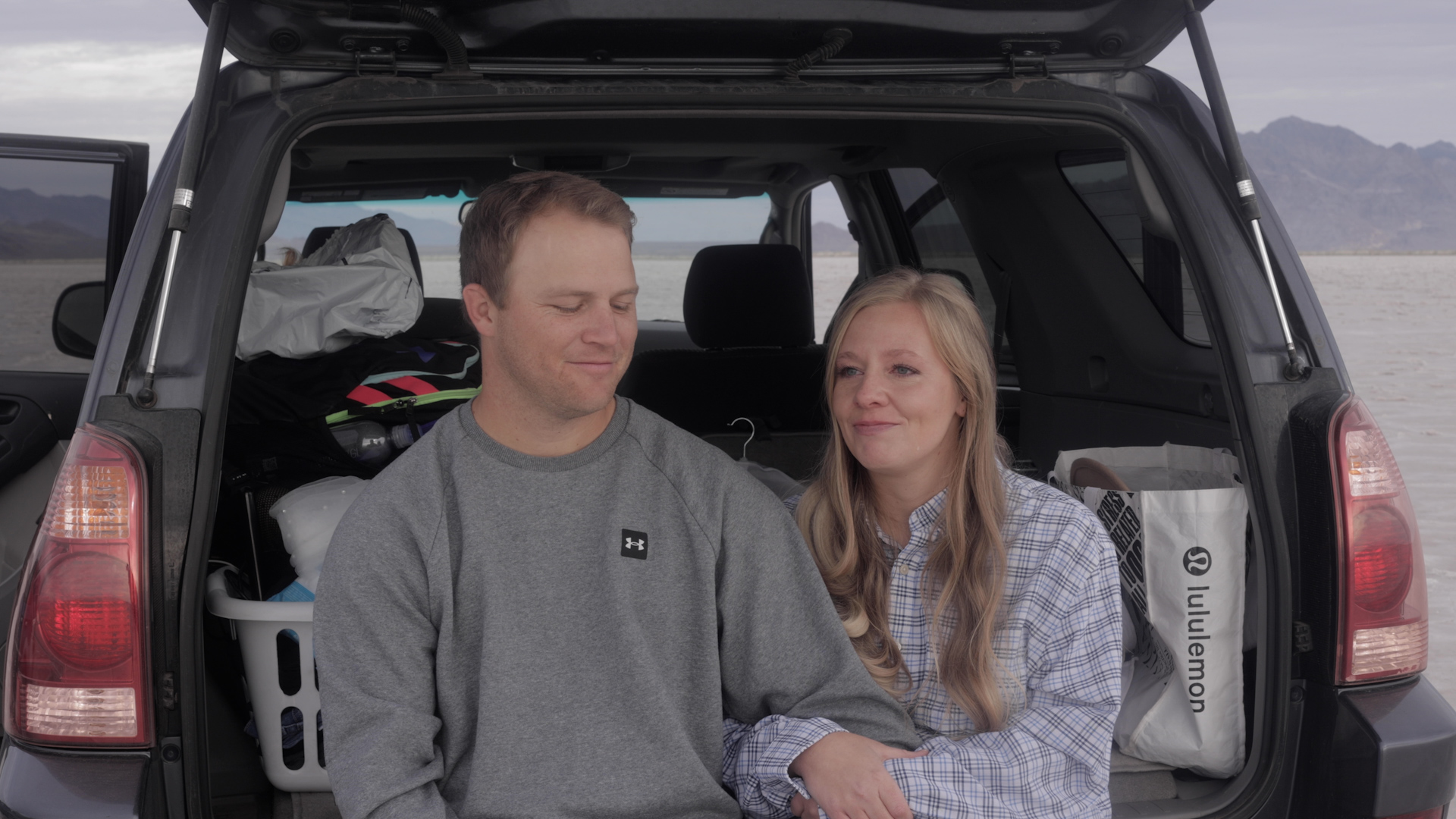 "Tanner was very friendly to us and made it just feel like a good friend filming our wedding. All of the guests loved having him and he asked us what we wanted, and delivered exactly on what we asked.
Tanner definitely knows how to help you have the best wedding memories ever!" - Braxton & Brooklyn
"I absolutely loved the video that Tanner did for my daughter's wedding. He is a very talented videographer. He is also a really fun person. We all loved his personality and he just made the day happier. Would highly recommend him. Amazing!" - Natalie (Brooklyn's Mom)
What Does The Process Look Like After Our Wedding Day?
The process of editing your wedding film begins and I'm SO EXCITED! But that process starts that same night you get married. Wherever I am staying for the night or if it's my home, I immediately back up your footage, audio files, and drone to a separate hard drive from the cards. This way I am ensuring that I have 2 - 3 copies of everything until I can begin editing.
I'll try to provide a teaser video within the first month after your wedding and share that on Instagram (with your permission). I'll ask you for your current address so that I can send you a gift that you won't want to miss out on!
Next, I'll deliver your highlight film and any other add-on videos that you invested in with a personal link to your own wedding website. From there you can download, share, and watch your films from the link. Lastly, I'll let you know when I have delivered everything, and thank you again for choosing me to capture your wedding.
My Final Thoughts
I love to hear your thoughts on the video after you've watched it and the experience of working with me as a whole. If you would be so kind as to leave me a review, I would greatly appreciate it as it helps my business grow and helps me work with future couples.
That's it! At this point you feel more than satisfied and are very happy with the video that you received, knowing that you made the right choice hiring me. You're left feeling like you received an experience far more valuable than what you paid for. You have the cinematic wedding film that not only authentically lets you relive your day but reminds you of why you got married and to see how your relationship evolves as the years go by.
As you both grow and potentially have a family, I hope that your wedding film will be something that you all enjoy watching. I hope that this has helped you understand my process as a wedding videographer and can't wait to hear from you.